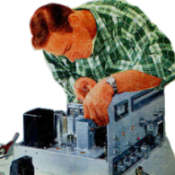 We're excited to tell you about a new idea that we've been working on behind-the-scenes here at MP3tunes. It's a project we call "
byo.fm
" (which can mean build-your-own or bring-your-own radio).
Imagine having a customized radio station that plays all of your favorite songs as well as news, weather, sports, and more. We just launched
this site
today and are starting to beta test. We will be announcing it to the general public in the future but, we wanted you to know about it first. We would love to hear what you think about the concept.
The good news is that
if you already have a MP3tunes account then your BYO station is ready to go
! You just have to go through the BYO sign-up wizard the first time to configure your preferences. Then, you can start listening to your own station immediately. (Most new customers will have to upload their music before they can listen).
TRY IT OUT!
1. Go to
http://www.byo.fm
and click the "Audition your Music DJ" link.
2. On the sign up page where it says "Already have an account?" type in your MP3tunes email address and password.
3. Next, select all of your DJs and set your preferences. When you are done you should see a "My Station" page where you can listen to your music along with news, sports, weather, and more.
GIVE US FEEDBACK:
You can send your feedback to:
support@byo.fm
Let us know what you think. Did you find any bugs? Do you have a suggestion for a new feature or source?
Let us know
!
One other thing that MP3tunes customers might be interested in is the new Locker upload software that we're working on called "Station Builder". (You can download it from the
byo.fm
web site). This program allows you to drag and drop files from your computer and easily upload them to your Locker. We are still in the early stages and there are
bound to be bugs
. If you find some please let us know.
We'd love hear your
feedback
. Let us know how
byo.fm
works for you!
The MP3tunes Team